Meet The Mad Mind Mapper
I'll try and keep this relatively short. The three-volume autobiography can come later…
As part of becoming a qualified, accredited and licensed ThinkBuzan Mind Mapping and iMindMap Instructor, you have to do a mind map, unsurprisingly… of yourself.
So I thought I would include it here. Putting the principles into practice, as it were.
I'll elaborate below a bit, but the essential is all there. Now why don't you do one for yourself? It's quite fun actually! And let us see the results.
A Past Unsimple
I was born in Edinburgh, the capital of Scotland (which almost became an independent country again in 2014), but left for London when I was two. So my roots are Scottish, my accent is English, my nationality British, my current home France, my 'community' European, and my planet (did you guess?) Mother Earth. In the end I'm just another Child of the Universe, like everyone else. My sense of humour is anyone's guess.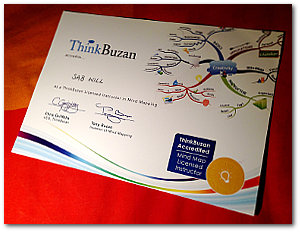 So having finished university with a degree in 'Computing and Data Processing' (no Information Technology back in those days, I started working for a computer company in sales to the financial sector. It didn't work out. Too many people comparing their commission and the brand of their ties. Tiring.
I left after a couple of years and did a six-month watersports course in north Wales. Became a windsurfing, canoeing and sailing instructor. Bummed around a bit after that. But it didn't work out. I was looking for something more… intellectually and creatively stimulating.
Tried becoming a (self-taught) photo journalist and wedding photographer. It was going well when slowly but surely, the lure of the unknown came calling. When people ask why I left Britain, over 20 years ago now, I always tell them I was both running away from the past and towards the future.
I also didn't see why I should spend my entire life living in the very same place I grew up, just because, well, I happened to be there.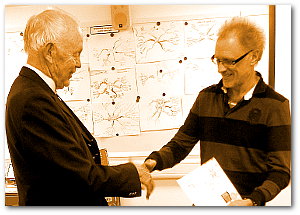 Off I went on my world travels then. I had enough money to buy a one-way Eurolines coach ticket to Val d'Isère in the south east of France. I figured I'd be a ski bum during the winter and a beach bum in the summer months. Unfortunately it was September, which meant no skiers and no surfers. Then the river rose and my tent floated merrily off down the river.
One of the three people still living in the town suggested I get my butt up to Paris. I didn't look back.
After a year of clearing up plates and 'shaking my tailfeather' in a cheesy American theme restaurant I noticed that a lot of my colleagues were popping off to do a month-long 'become an instant English teacher – just add grammar' course and becoming… English teachers. Sounded good to me.
Now, after more than 20 years, and a few web sites, English books, teacher training, French adults and kids, getting married, moving to Greece to set up an English school, getting divorced and coming back to France… here I am.
A daughter, now grown up and splendid surfaced somewhere along the route to mind mapdom.
The Present Perfect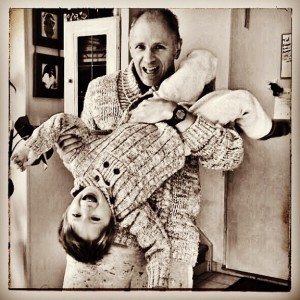 The present perfect is a really worn out geeky play on the fact that it's also the name of an English tense which I have spent horrendous chunks of my life trying to impart to various language learning victims of all shapes, sizes and abilities. With various degrees of success.
Now my present is pretty perfect, in fact. I'll be 50 years old in three months as I write this, and I'm looking forward to the next 50 already.
Watching my little five-year-old boy grow and develop at an incredible rate is also greatly enjoyable. It's my second chance at being a good dad and I figure I can only get better…
I'm working like crazy on two major projects: my funky English language teaching site, Fun English Lessons; and my brand new Mind Map Mad site, where you are reading these words, in fact. I have great plans for both of them. Which leads me on to…
The Future Continuous
The idea of retirement is alien to me – I hope it never happens!
Having just spent a few inspirational days obtaining my ThinkBuzan Licensed Instructor qualification with Tony Buzan, the inventor of mind maps, who is over 70 and going stronger than strong, I intend to keep working, sharing, loving, learning and laughing till I hit the ground (hopefully) running.
The potential for 'the little guy' or 'the little gal' to truly make a difference is greater than ever these days. We have the advent of the internet to thank for much of this, of course. Now anybody with something valuable to share can do so on a global scale. What a wonderful situation to be in!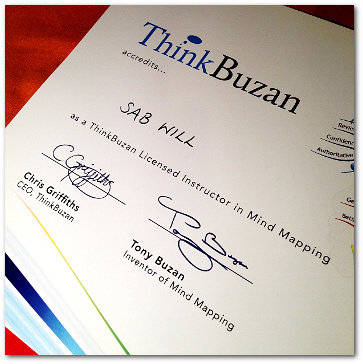 My attempt to share is concretised in the two web sites I mentioned above. I intend to help as many people learn English as possible, in a fun, fast and effective way, using all the channels available to me.
And the wonderful world of mind maps and all it encompasses and symbolises has well and truly sucked me in, is currently chewing me around a bit, before spitting me out with a spanking brand new web site and lots of great ways to make this great technique help even more people reach their goals and make the most of their potential.
I warmly invite you to join me on this journey, to get involved, to say 'Hello!' and introduce yourself anywhere on the Mind Map Mad (or Fun English Lessons) social network and tell us what's happening.
I look forward to meeting you. Mind map on!